Head:
Alexander Mielke
Coworkers:
Thomas Eiter
,
Annegret Glitzky
,
Martin Heida
,
Katharina Hopf
,
Thomas Koprucki
,
Matthias Liero
,
Anieza Maltsi
,
Michael O'Donovan
,
Dirk Peschka
,
Joachim Rehberg
,
Stefanie Schindler
,
Burkhard Schmidt
,
Leon Schütz
,
Artur Stephan
,
Marita Thomas
,
Willem van Oosterhout
Secretary:
Andrea Eismann
Honorary Members:
Jürgen Sprekels
Fellowships:
Michael Kniely
,
Michael Tsopanopoulos
Former Honorary Members:
Herbert Gajewski
Konrad Gröger
Upcoming Events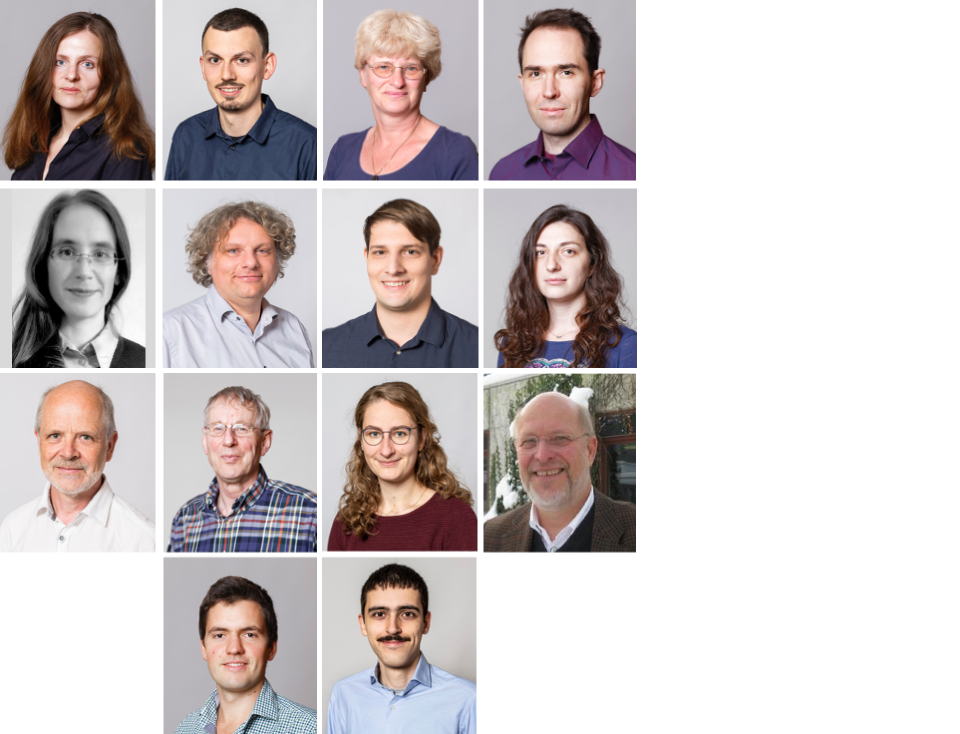 From top left to bottom right:
Andrea Eismann, Thomas Eiter, Annegret Glitzky, Martin Heida, Katharina Hopf, Thomas Koprucki, Matthias Liero, Anieza Maltsi, Alexander Mielke, Joachim Rehberg, Stefanie Schindler, Jürgen Sprekels, Artur Stephan, Willem van Oosterhout.
Overview
Many fundamental processes in nature and technology can be described by partial differential equations. The research group is working on the analytical theory of such equations (existence, uniqueness, qualitative behaviour) and on the development and implementation of algorithms for their numerical solution. The algorithms are used for the numerical simulation in industrial applications. The functionality of modern materials, for instance, relies on the complex interplay of effects on several length and time scales as well as on different physical effects, such as mechanics, thermodynamics, optics, and electromagnetism. The main topics of research are mathematical models of carrier transport in semiconductors and optoelectronic devices and reaction-diffusion equations for the transport of dopants in solids. Furthermore, nonlinear material models for linearized and nonlinear elasticity and plasticity as well as for systems with internal variables are under study. In this context, we develop in particular methods for abstract evolutionary equations, e.g. gradient systems, and for multiscale problems.
Highlights
Several coworkers of RG 1 gave talks at the Annual GAMM Meeting (Dresden, 29 May -- 2 June 2023): Thomas Eiter on "Energy-variational solutions for a class of hyperbolic conservation laws", Annegret Glitzky on "An effective bulk-surface thermistor model for large-area organic light-emitting diodes", Martin Heida on "Perspectives for homogenization on randomly perforated domains", Matthias Liero on "Balanced-viscosity solutions for a Penrose--Fife phasefield model with friction", Michael Kniely on "On a thermodynamically consistent electro-energy-reaction-diffusion system", Leon Schütz on "An existence theory for solitary waves on a ferrofluid jet", and Willem van Oosterhout on "Analysis of poro-visco-elastic solids at finite strains".
Michael O'Donovan successfully defended his PhD thesis entitled "Theory of carrier transport in III-Nitride based heterostructures" on 23 March 2023. Congratulations!
Anieza Maltsi successfully defended her PhD thesis entitled "A mathematical study of the Darwin--Howie--Whelan equations for Transmission Electron Microscopy" on 11 November 2022. Congratulations!
Matthias Liero successfully completed his habilitation at the Humbold-Universitat zu Berlin. His habilitation thesis "Mathematical Analysis of Charge and Heat Flow in Organic Semiconductor Devices", defended on 4 July 2022, discusses mathematical models describing the electrothermal behavior of organic semiconductor devices. Congratulations!
The Leibniz Association will fund the joint project "UV Lasers - From Modeling and Simulation to Technology (UVSimTech)" for three years within the Leibniz Competition. The consortium is coordinated by Thomas Koprucki at WIAS and includes besides WIAS also the FBH Berlin, the IKZ Berlin, the TU Berlin und the FAU Erlangen.

Research Groups

Main Areas of Application